Camila Lobos Diaz
Country
Santiago, Chile
Website
Year
2020
My work, mainly three-dimensional, aims to make the socio-political context visible, exploring the relationship between power and visibility.
I make installations and sculptures that deal with the dichotomy of visibility. I understand the phenomenon of becoming visible as a conjunction of time and space, but mostly as a very fragile moment. I use different kinds of materials such as, smoke, plants, glass, clear resins and diverse sources of light, because of its fragility.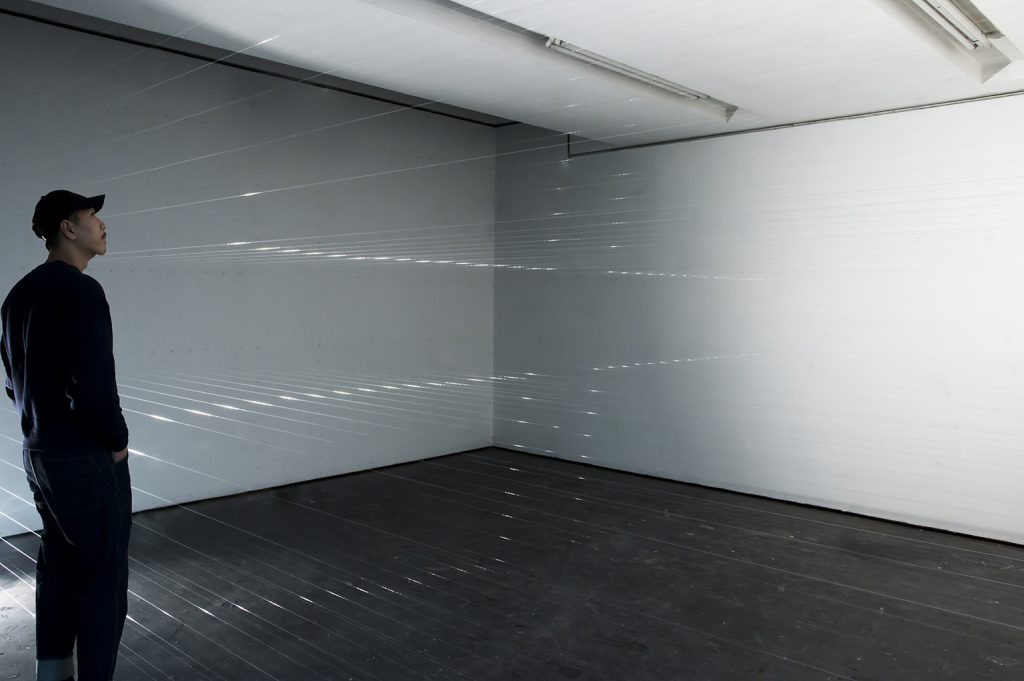 Through my practice I explore how art makes visible those elements, which the dynamics of power moves out of our range of view. I understand my works as gestures that reveal the space and its particular conditions. From this emerges the interdependence between them and the space that surrounds them. I address interactions between space and human relationships (micropolitics). My practice works with the idea of context as a symbolic space, where projects are not simply placed but from where they also emerge.
 Geofencing is an almost invisible installation. Clear nylon wires emerge from the England flag (Saint Georges cross) creating an impenetrable space. The flag of England is associated, in the context of the United Kingdom, with the right-wing currents linked to nationalism and racism. This work generates a symbolic space in which the geopolitical boundaries that this national emblem represents are visible. Geofencing, metaphorically replicates in space what happens with identity symbols, while creating communion, generate exclusion for those who are not part of them. They create impenetrable territories of which their limits, although intangible, are access barriers.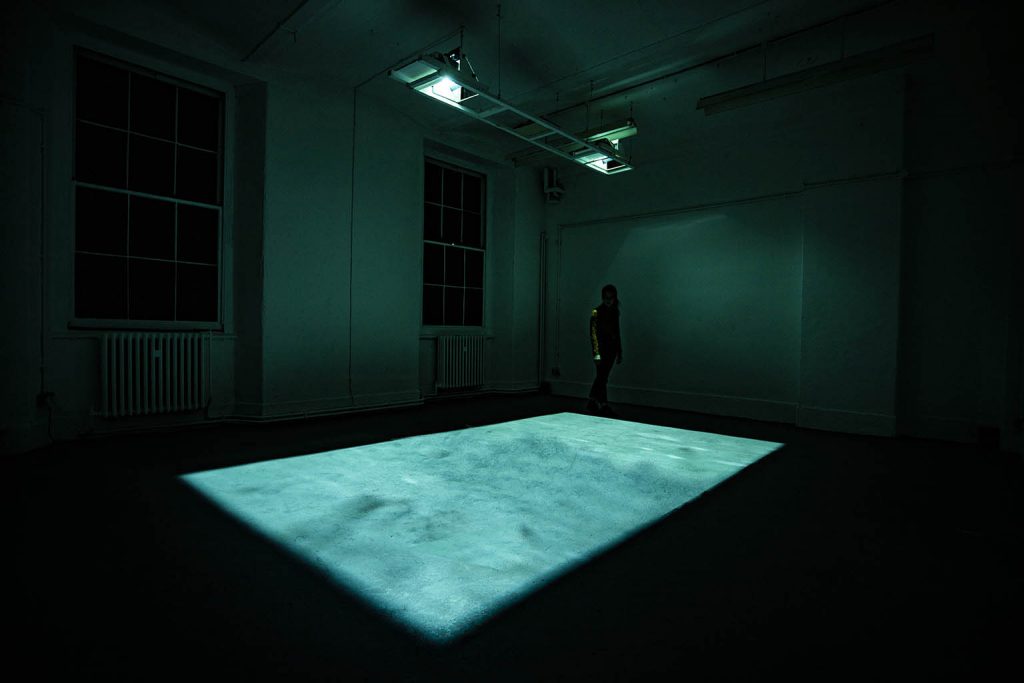 My current research is developed in the intersection between art and human geography. Extrapolating my previous research around periphery, marginality and invisibility into global processes linked to migration, power centres and costs of progress in less developed countries.
2.  Domain is a video / sound installation composed by the overhead projection of a fragment of the sea custodied by the sound of a soldier marching around the perimeter of the projection. The sound was previously recorded with the soldier marching in situ and during the exhibition the sound is projected into the space through a four channels system moving the sound between the speakers, so as if the soldier was still in the space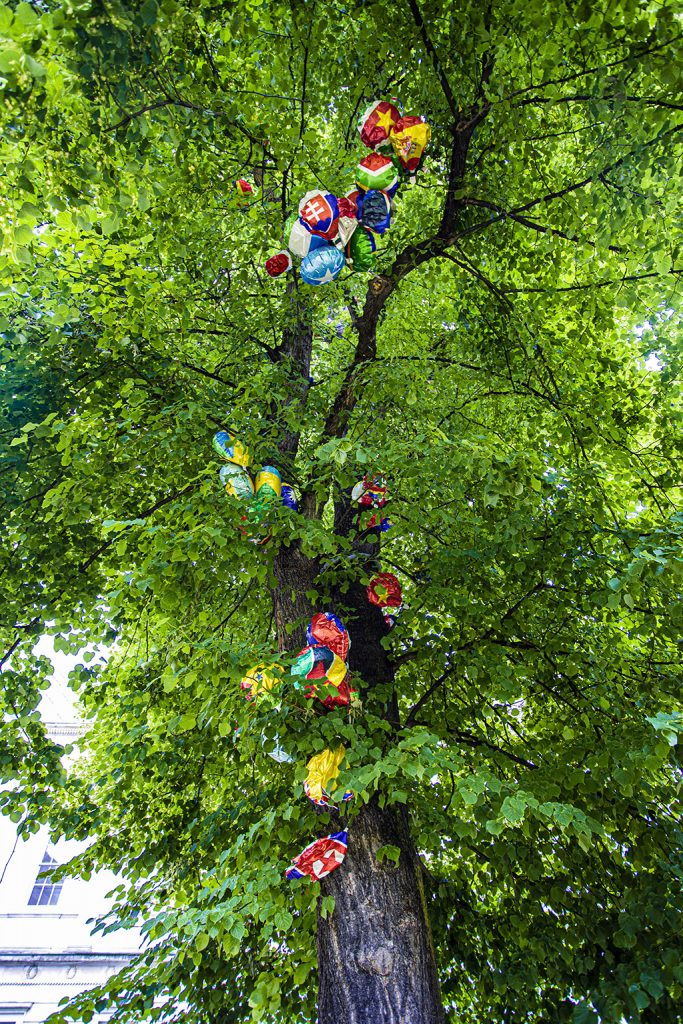 I am interested in the frontier as a concept and borders as materiality. I am currently developing visual and conceptual research on the ideas of patria, nation and territory. I assess these throughout the deconstruction and resignification of existing national symbols (i.e. "Geofencing", "Territory", "Domain" y "All the countries that I know, or a story of celebration and decay").
3.  All the countries that I know, or a story of celebration and decay is an installation in the public space, in the main quads of University College London. The work shows 204 national flags, each one printed on a foil balloon inflated with helium gas, spread and tied across the Tilia Cordata tree. During the exposure time the balloons struggle with their moorings to be able to fly due to the characteristics of helium, and as time passes, they begin to decline due to the absence of gas. Thus, the installation changes every moment. The origin of this project is to propose a dialogue between the ideas of nation, homeland, borders, territories and the superposition of celebratory objects and national symbols. Are flags these days a reason for celebration?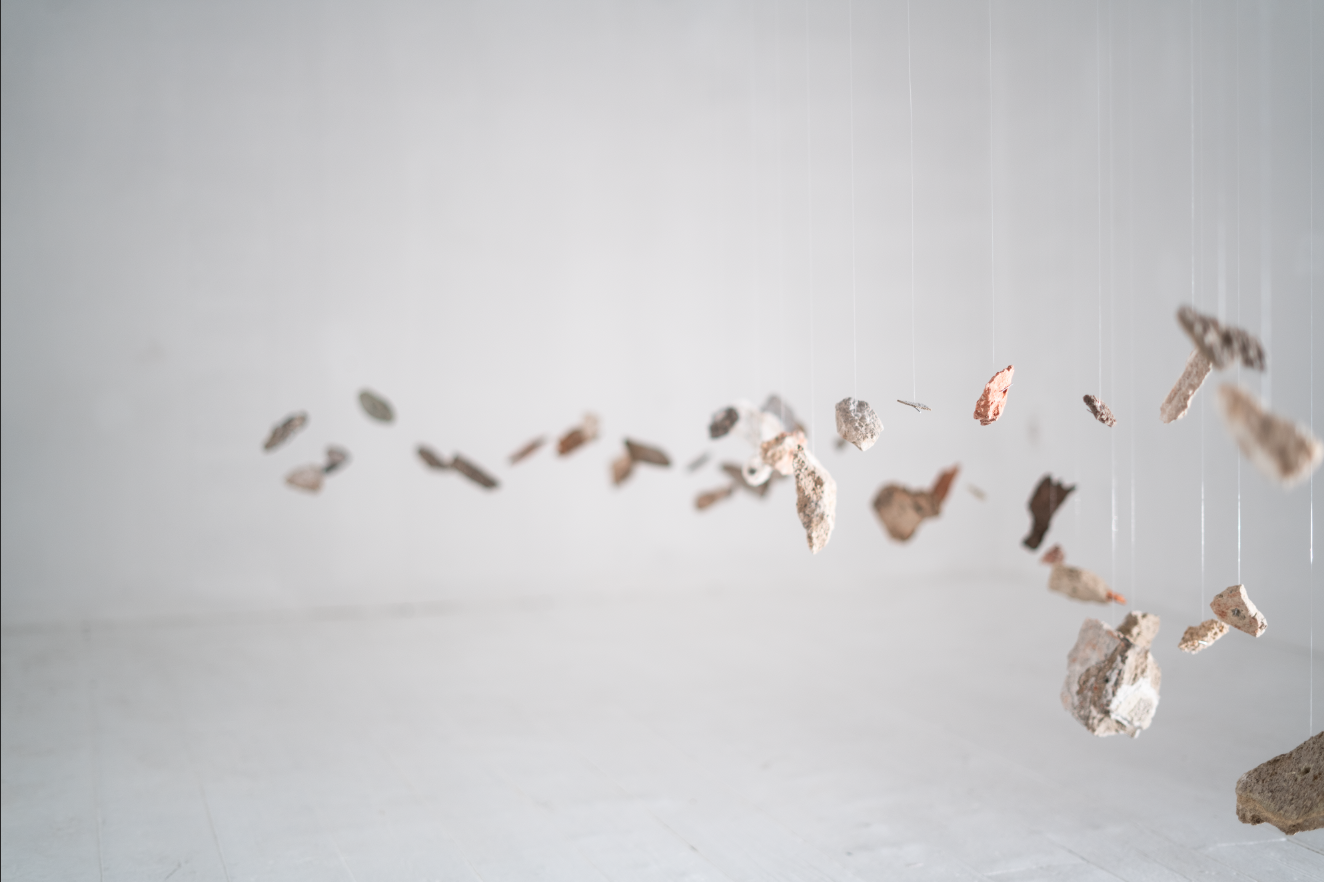 4. Macondo is the place in Vienna where the first Chilean political refugees from the dictatorship of Augusto Pinochet arrived, baptized with that name in the seventies by the same community. In Existencia en el borde, the geopolitical border of Chile is built from 119 stones collected from the grounds of Macondo, installed as pendulums from the ceiling of the exhibition space. The result is a mobile and fragmented border of Chile.
Camila Lobos Díaz lives and works between London (UK) and Santiago (CL). She obtained her BFA degree from the Catholic University of Chile (2013) and an MFA Sculpture in Slade School of Fine Art, University College London (2019). Camila is a winner of the Chilean National Cultural Council Grant – FONDART (2019); Santiago Municipality Visual Art Awards 2017 (Chile); Slade Bursary 2017 (UK); "Art and technology" Award, Telefónica Foundation 2013 (Chile); LENOVO Art Prize, 2012 (Chile). In 2017 she received the Yitzhak Danziger Scholarship to undertake the MFA degree at Slade School of Art in London. She has been nominated for different awards such as: Red Mansion Art Prize 2018 (UK – China), UCL Museum/ Slade Collaboration 2018 (UK).
She has been recently commissioned by Tate Modern Museum to develop a special edition of Christmas cards (2019). In 2017 she was commissioned by Chilean Ministry of Culture and Arts to create the Public Art Project "El lugar de la visibilidad" and in 2016 was awarded a grant to develop an Artist in Residence programme by the Academy of Fine Arts Vienna (Austria). Her work has been widely shown individually and collectively in Latin America and Europe. An example of this is her participation in spaces such as: Museum of Contemporary Art (Chile), Telefónica Foundation (Chile), Galería Bech (Chile), Facultad de Arts ASAB Universidad Distrital de Bogotá (Colombia), Kunstraum Niederösterreich Museum (Austria), Gallery Schleifmühlgasse 12-14 (Austria), 12na Bienal de La Habana (Cuba), L.A. Art Show (USA), Woburn Research Centre, Creekside Gallery (UK) and Hinterland Galerie (AT).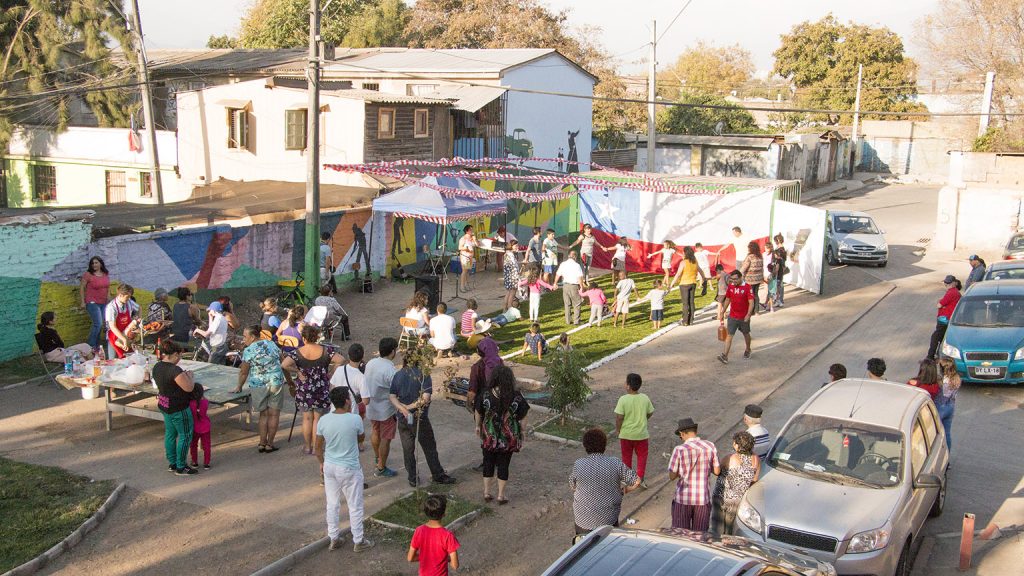 5. El lugar de la visibilidad is an eight-month residency project commissioned by Chilean Ministry of Culture and Arts in the borough of Estación Central in Santiago, Chile. The project was constituted by three different stages and its aim was, through art, to try to convert two geographical spaces into a neighbourhood, territories into communities. In the process of the residency, I did different activities with the community in Gabriela Mistral and La Palma. These two contiguous neighbourhoods are in the borough that has a population of 3000 inhabitants, 38% of which are migrants from Haiti, Peru, Ecuador, and Bolivia. The abandoned square called without name emerged as the most important public space for the community. In the third month of residency, was inaugurated the Cultural Container, a maritime container in which was installed an open communal art space, in the square without name former informal rubbish space. The Cultural Container generated a physical and temporal space and hosted the different manifestations of the neighbours, artistic and non-artistic that as a whole, help to build the cultural identity of the community. The space is now running and managed by the neighbours and they have a legal body Cultural Container that owns it.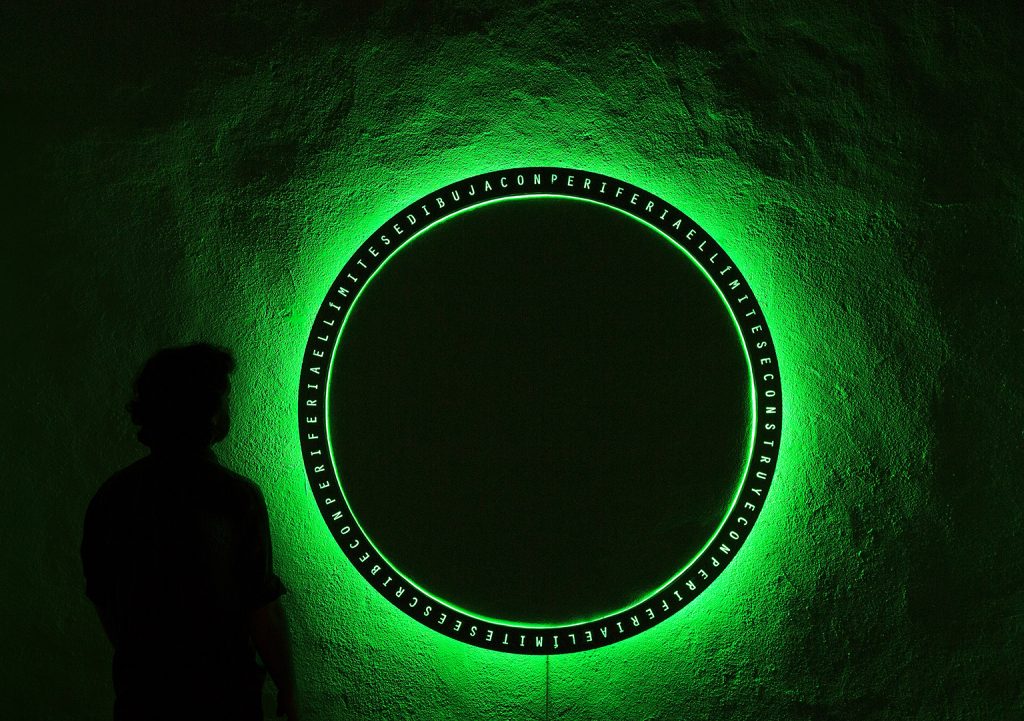 6. Geometría del Límite conceptually addresses the boundary as a symbolic space and has its origin in an investigation about the center-periphery relationship. It is a geometric abstraction of this conceptual and formal space that defines one domain from another. While it is spatially constructed, it divides the exhibition space, generating an interior and an exterior. It takes the most recurrent geometric form used in the planning of big cities, a circle or ring that defines the urban perimeter and symbolizes the asymmetry between the centre and the periphery. This series of works generates a space for the limit that is attenuated through the light that expands from its edges, in order to address the immateriality that defines a border between one point and anoth